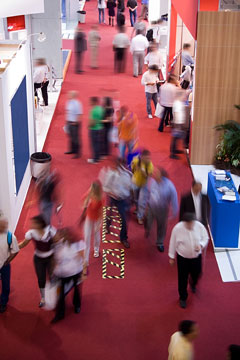 Convention planners coordinate the details of a meeting or convention to meet the needs of its target audience as well as those of the client. They are responsible for coordinating the convention location, transportation, speakers, printed material, audio-visual equipment, and more, all while staying under a set budget.

Convention planners must determine whether the purpose of the meeting would be best achieved via an Internet conference or more traditional on-site convention. If the meeting will be on-site, the planner must search hotels and convention centers for an appropriate venue. Location is a major factor to consider when choosing a site, and convenience may necessitate selection of a convention center that is close to a major airport for out of town attendees.

Convention planners issue proposal requests to possible meeting sites, stating the dates and needs for the meeting or convention. Once the proposals are returned, convention planners review them and choose a site, or make recommendations to the clients. Convention planners must negotiate contracts with the facilities and suppliers, arrange support services, prepare site staff, register convention attendees, coordinate lodging reservations, arrange transportation, and order supplies and printed materials.

Meeting and convention planners work a fast-paced and demanding schedule. They face numerous deadlines and orchestrate multiple operations at one time. Planners regularly travel and often work irregular hours, working a lot of overtime just before and during a convention.

Convention planners must be able to stand and walk for long periods of time, and lift boxes, exhibits, and supplies. They must have excellent written and verbal communication skills, and excellent interpersonal skills. They should be able to multi-task, meet tight deadlines, and maintain composure under pressure. The ability to speak multiple languages is a plus, and being detail-oriented is a must.

While many meeting and convention planners have at least a bachelor's degree, some move into the position through experience planning meetings as an administrative assistant. Useful undergraduate majors include marketing, public relations, communications, business, and hotel or hospitality management.

Employment of meeting and convention planners is expected to grow faster than the national average, and will be best for those with a bachelor's degree and some experience. Please visit the Convention Industry Council website for information about meeting planner certification, and the Meeting Professionals International website for information about entering the meeting planning profession.
Related Directory Pages
---
About Convention Planners